Julie Sheriff Afro comb murder trial: Girl found guilty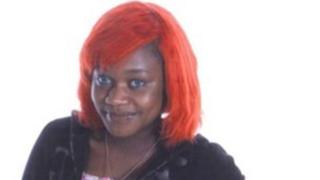 A girl has been convicted of murdering a teenager who died five months after she was attacked with an Afro comb.
The girl, who was then 15, spiked 16-year-old Julie Sheriff's head with the comb's metal handle in a row in a south London street, the Old Bailey heard.
Julie, originally from Sierra Leone, died on 21 September from the brain injury inflicted in Battersea last May.
The girl, 16, who cannot be identified for legal reasons, was remanded in custody for sentencing on 28 August.
The court heard how the teenager had pulled the comb from her handbag and struck Julie, with the tip of the comb penetrating deep into her brain.
The victim, from Hackney, east London, lay in a coma for almost five months before she died.
Malicious gossip
Judge Nicholas Cooke told the defendant he would be passing a life sentence and deciding the minimum term for which she must be detained.
The judge said: "I will consider your future when I am armed with the fullest information."
The jury had been told that the argument between the two teenagers was about malicious gossip involving boys.
A witness saw the defendant strike Julie's collarbone without much effect and then plunge the comb into her skull.
The court heard how the tip of the comb penetrated the brain, causing bleeding and swelling.
The defendant had claimed she was acting in self-defence.
But the court heard she had left a BlackBerry message, saying: "I see some girl that I hate, like I actually hate her with a passion, and I kind of stabbed her."