London 2012: Cabbies stage Games Lane protest
27 July 2012

From the section

London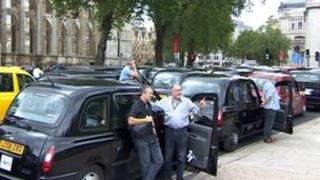 London taxis have staged a go-slow protest at Hyde Park Corner in central London over Olympic traffic lanes.
The protest was moved forward by three hours after police said they could not demonstrate on the Olympic Route Network from 16:00 to 03:00 BST.
Cabbies have held two protests over not being allowed into the lanes which are reserved for officials and athletes.
Traffic was "stationary" from about 14:00 till 14:50 when police cleared the area, BBC London Travel desk said.
This in turn led to congestion on all approaches to Hyde Park Corner at Grosvenor Place.
The demonstration came hours before thousands of spectators and world leaders were expected to attend the opening ceremony of the London Olympics.
A Metropolitan Police spokeswoman said as the protest had begun before 16:00 it had not breached the conditions imposed under Section 12 of the Public Order Act 1986.
'Key part'
Len Martin, vice chairman of United Cabbies, had said: "We don't want to disrupt Londoners, what we want to do is to bring to the public's attention the plight of the London cab driver who is unable to bring a service to the Olympic Games during the Games."
Earlier Metropolitan Police Commander Christine Jones said they wanted to work with the drivers so they could protest without affecting London life.
She said: "We have to balance the democratic right to protest with disruption to communities.
"It's a huge event happening today and what we want to do is to work with them so that it doesn't disrupt London."
Previously, cabbies have brought traffic to a halt outside the Houses of Parliament and on Tower Bridge as part of their campaign.
Bob Crow, general secretary of the Rail Maritime and Transport union, said: "It remains extraordinary that the licensed taxi drivers who are a key part of London's transport system are still banned from the VIP lanes on the eve of the Olympics.
"The iconic London black cab was a central part of the imagery that secured London the Games and, even at this late stage, Mayor Boris Johnson should step in and allow them to use the Olympics lanes to help keep the city moving."
Transport for London said cabs were able to use some lanes to collect fares.