Dead Thamesmead woman, 76, had her wrists bound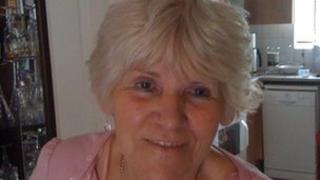 An elderly woman found dead in her south-east London home after an apparent break-in had her wrists and ankles bound, police have revealed.
Pamela Wheeler, 76, was found dead at her home in Newacres Road, Thamesmead, on Sunday.
A post-mortem examination has so far failed to establish a cause of death but further tests are to take place.
Police called it a "shocking and tragic crime", adding that the killer stole "all her dignity and respect".
Det Ch Insp Graeme Gwyn said: "We believe Mrs Wheeler was last seen on Thursday by neighbours.
"She usually leaves food out in bowls for cats in the area and neighbours noticed the bowls were empty on Friday morning.
"Pamela was found dead in her own home. This lady was found with her wrists and ankles tied."
He continued: "I would urge anyone who may have any information on this murder to contact us as soon as possible."