London 2012: Tube cleaners strike during Games launch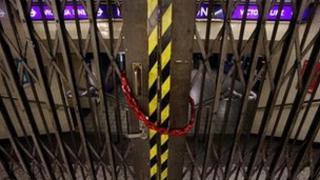 Cleaners on the London Underground and Docklands Light Railway have called a two-day strike to start on the day of the Olympics opening ceremony.
Rail, Maritime and Transport (RMT) members will walk out on Friday in the row over Olympics payments.
The strike will coincide with separate RMT action, where members on the Tube will work to rule over an Olympics pay deal and the use of casual workers.
LU said the action would have no impact on services.
RMT General Secretary Bob Crow said Tube cleaners were being treated "like dirt" over their demands for the extra workload they are facing during the Olympics to be recognised.
'Inclusive Olympics'
"Even at this late hour there is time for the cleaning companies, and Mayor Boris Johnson who hires them, to settle this dispute which is about ensuring an inclusive Olympics where everyone shares in the benefits," he said.
In a separate dispute, from Friday until further notice, all RMT members on the Tube will work to rule.
Mr Crow said this action related to an existing dispute over casual working arrangements and problems implementing Olympic payments.
Howard Collins, London Underground's chief operating officer, said it had reached an agreement with the four trade unions over rewards to staff working during the London 2012 Games.
"Since then we've been working to ensure that the Tube will have the required level of staffing to run enhanced services during the Games," he said.
Phil Hufton, asset performance director for London Underground, said the cleaners' dispute was between the contractors and the staff, adding: "We anticipate very little impact on London Underground services as a result of this industrial action."