Amy Winehouse's ex-boyfriend Reg Traviss to face rape trial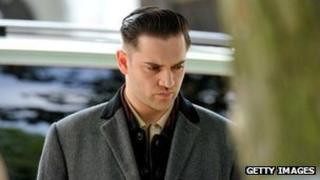 The ex-boyfriend of the late singer Amy Winehouse has been sent for trial on two charges of rape.
Reg Traviss, 35, was Winehouse's boyfriend when she died at her home in Camden, north London, last July.
Mr Traviss, of Marylebone, spoke to give his name, address and date of birth when he appeared at Westminster Magistrates' Court.
The court heard that he is accused of two counts of rape in the early hours of 31 December, 2011.
He will face trial at Southwark Crown Court on 12 September.