Londoners prepare for Olympics commuting revolution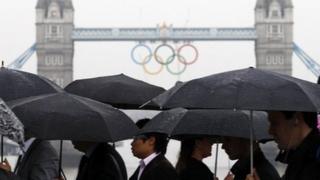 Keeping London moving was always going to be one of the biggest challenges of hosting the Olympic Games.
Transport for London (TfL) Commissioner Peter Hendy has called it Britain's "largest peacetime logistical exercise".
An extra three million journeys are expected to be made per day on average, on top of the nine million separate trips Londoners already make.
TfL's Get Ahead of the Games campaign is asking for nothing short of a rush-hour revolution, with commuters asked to keep away from busy routes, choose different modes of transport and travel outside of peak times.
The response could see jogging couriers, an army of homeworkers, and cyclists and office workers taking the "scenic route" to work - or so Games organisers hope.
'Don't wing it'
London is hosting events at the Olympic Park and 13 other venues from 27 July to 9 September.
TfL has said the full Olympic Route Network (ORN) - the roads linking all competition venues and other key sites, such as Heathrow Airport - will be enforced from Wednesday.
A spokesman said commuters should already be using alternative routes to and from work.
Ruth Wharram from London Chamber of Commerce and Industry said its 2,500 members have been warned for a long time to find routes to avoid the ORN.
She said: "We've been saying, we know it's going to be busy. Make sure you know the best way. Don't be complacent. You can't just wing it for the first couple of days, taking your usual route."
About 100,000 people work in the 100 acres managed by the Canary Wharf Group.
Hamish McDougall of the group said: "We are within three miles of two Olympic venues so we've worked closely with TfL for years to keep open for business."
'Not jumping for joy'
To appeal to bankers' competitive natures, a leader board has been created. They can register the number of kilometres they bike or run to work and win a prize.
Extra Thames Clipper boats, Jubilee Line trains, hire bikes and bike racks will be brought into use.
But Mr McDougall added: "There will be four or five evening rush hours when you will face a significant wait for a train."
Brian Larkin, the manager of Micycle in Islington, north London, says for the past two to three months, every six or seven bikes in 10 has been sold to someone saying they are making their purchase with the Olympics in mind.
Meanwhile, office workers for mobile phone company 02 will be among those working remotely, in back offices of shops where possible, instead of at the firm's head office in Slough, close to Dorney Lake where the rowing competition will take place.
London Ambulance workers who are not frontline staff have been encouraged to consider working at one of the 70 ambulance stations across London, instead of their usual one.
Jogging couriers
Delivery companies are having to work later hours as no kerbside deliveries will be allowed on the ORN and surrounding areas from 06:00 BST to midnight.
Hugh Basham, transport strategy and policy director for DHL, said: "Is everyone jumping for joy? Probably not. Have they developed a pragmatic attitude? Yes."
DHL will be using jogging couriers for part of its express service. About 100 joggers will run an average of six miles a day.
Mr Basham said it would be particularly useful in "no-go areas" which vans cannot get to.
Despite the warnings, many have a wait-and-see attitude, such as Roy Emmerson who works for a construction company and travels from Thaxted in Essex to sites all over London.
He said: "I'm going to try and set my own working times and will try leaving earlier. I'm just going to have to suck it and see."
Mr Basham believes an increase in nighttime deliveries could be one of the Games' legacies, taking vehicles off the road during the day and increasing efficiency.
One of TfL's stated aims is to "embed the benefits of the Games". So who knows? Home-working, flexitime, cycling and walking could stay with Londoners long after the Olympics roadshow has rolled out of town.