M4 closure: Drivers told to stay away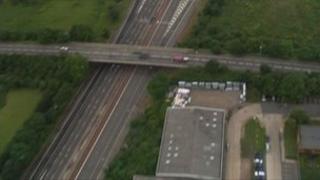 Motorists are being warned to avoid the main motorway link from London to Heathrow Airport, after it was closed to repair cracks in its structure.
The M4 is shut between junctions two and three and is not expected to reopen until Thursday morning.
But the motorway has reopened in both directions between junctions one and two.
The agency urged drivers to seek alternative routes via the M3 or M40.
Diversions have been put in place along the A312 and the A4, and the A40 is expected to be congested as well.
London-bound traffic will be able to join the M4 at junction 2 and traffic heading out of London can stay on until junction 2, although there is a lane two closure in this direction.
The Highways Agency said it expects all work on the M4 to be finished before the start of the Olympic Games later this month.
The full closure of the motorway in both directions between Chiswick and Feltham began at 20:00 BST on Friday.
'Sensitive location'
Restrictions on vehicles weighing more than 7.5 tonnes had been in place since March when hairline cracks were discovered in some of the steel beams.
The agency said on Friday workers "found a further crack in a sensitive location which requires us to keep the viaduct closed until the repair is complete".
Jon Caldwell from the Highways Agency warned there would be delays.
"The repair works that we need to do, to bolt the plates to the decking, needs to be done with no traffic on it," Mr Caldwell told the BBC.
"We need to do it now so that it's all completed ready for when the Olympic traffic starts to use the road in a few weeks' time."
The M4 is the main route between Heathrow Airport and central London and will be vital for transporting visitors into the city for the Games.
It is also the major road link from London to the West Country and Wales, as well as being a heavily-used commuter route.
London Mayor Boris Johnson said it was vital the repairs were completed "as speedily as possible".
Just before Christmas, the Hammersmith Flyover - part of the same route in and out of the capital - was closed for five months after structural defects were found.
Click here for the latest London travel information.