Addison Lee's cigarette 'adbins' to be removed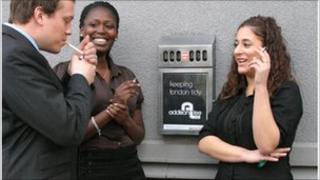 Private taxi firm Addison Lee has been told to remove thousands of free cigarette bins from London streets.
After court action by Westminster City Council, the taxi firm has been ordered to remove 3,000 bins which have adverts for the taxi firm on.
The council said it wanted to prevent the area from being overrun with "excessive" adverts.
Addison Lee chairman John Griffin said the bins made London a better place and were "tidy and popular".
"There's a waiting list from businesses across London who want them," he added.
"All eyes will be on London with this summer's Olympics and the West End will be covered in dog-ends. The lunatics have taken over the asylum."
'Entitled to advertise'
Businesses can request the free bins for use by their employees and customers.
Local authorities have the power to issue £80 fixed penalty notices for littering to people caught throwing cigarette butts on the ground.
Alastair Moss, the council's deputy cabinet member for the built environment, said: "This injunction underlines the fact that no commercial organisation can decide for themselves where and when they are entitled to advertise without seeking the necessary consent."
The council said it had never objected to small incidental advertising such as company logos placed on banners however Addison Lee advertisements were "as large as the cigarette bins themselves".
It said it told the company it would consider something much smaller - about 5-10% of the area of the bin - as that would not dominate the townscape "in the way they do now".
He added: "We always try to be fair and flexible and nobody disputes the general value of bins - but the fact is that Addison Lee and adbins put thousands of bins without permission which amount to a form of litter in their own right."