London 2012: Roadworks to end and Games Lanes begin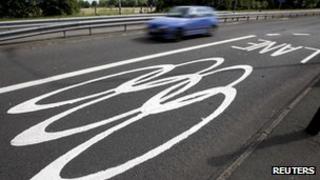 Work has begun on adapting London's streets to transport Olympic athletes and officials in preparation for the Games which begin on 27 July.
Roadworks have stopped so that markings for the Olympic-dedicated lanes can be painted and traffic lights adjusted.
There will be 30 miles of Games Lanes in London forming part of the Olympic Route Network (ORN) linking venues.
Most lanes start from 25 July and will operate from 06:00 BST to midnight, Transport for London (TfL) said.
'Transformation begun'
It is advising motorists to avoid central London around the ORN and Games venues from mid-July when athletes, officials and the media will begin arriving in large numbers.
The first London Games Lane, on the M4 near Heathrow, will come into effect early on 16 July.
To keep disruption to a minimum, TfL said work to paint white lines and Olympic rings on the roads will be done overnight and not require road closures.
Roadworks have already stopped on ORN roads and will be halted on "key A- and B-roads in London", a TfL spokeswoman said.
Up to one million extra visitors are expected in London on each day of the Games and there will be up to 1,300 "Games Family" vehicles an hour travelling between key venues.
The ORN is a requirement of the Host City contract.
A penalty charge of £130 will be issued to owners of vehicles who break the regulations, including driving in Games Lanes or stopping along the route.
Any illegally parked vehicle will be taken to a vehicle pound and may incur a release fee of £200.
The Games Lanes will end around two days after the Olympics finishes on 12 August and will not be in operation between the Olympics and Paralympics.
A smaller Paralympic Route Network will come into operation shortly before the Paralympics start on 29 August.
London Mayor Boris Johnson said: "London has begun its transformation into a massive sporting and cultural venue."
He said his team had "slashed" the route from the 149 miles originally envisaged when the Games were bid for and that the impact on Londoners and businesses would be minimised.
Dedicating routes to events became an Olympic priority after difficulties in the 1996 Games led to the venue in Georgia, USA, being dubbed "the lost city of Atlanta".