Consultation agreed into north-west London A&E closures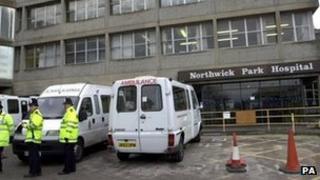 A 14-week public consultation will take place regarding plans to close accident and emergency departments in north-west London, starting 2 July.
The decision was made at a meeting of the Joint Committee of Primary Care Trusts at Westminster Central Hall earlier.
Four out of nine accident and emergency wards will close under NHS reorganisation plans.
The NHS says better care can be given by fewer, more specialised centres.
'Economies of scale'
Health bosses say there would be a £332m gap to plug by 2014/15 if no changes are made.
They said the proposals would give patients better care but it would mean the loss of accident and emergency departments at Charing Cross, Ealing, Hammersmith and Central Middlesex hospitals.
Critics of the plan claim patients will have to travel further for treatment.
Councillor Julian Bell, leader of Ealing Council, said: "It will cause local people, particularly those who are the poorest, significant problems in getting to hospitals, supporting their relatives and even, potentially, it could cost lives if those journey times are impacted in terms of rush hour traffic."
Andrew Slaughter, Labour MP for Hammersmith, said there was "nothing wrong with economies of scale if you can join forces and do something cheaper that provides more resources, but what we're seeing is a levelling down".
Dr Michael Anderson, of NHS North West London, said: "I can point you to hospitals in west London and beyond London where because people are so frightened of change nothing happens until they can no longer be supported and they are closed at short notice.
"This process allows a discussion, informed comment and hopefully decisions to be made in advance rather than waiting till you can no longer support various hospitals."