Downhills Primary School strikers invite Michael Gove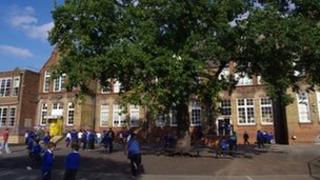 Parents and staff at a school resisting academy status are urging the education secretary to visit.
Teachers at Downhills Primary in north London are staging their second strike in protest at government plans to make it an academy.
As part of the action, a group from the school went to the Department for Education (DfE) to hand in a giant memo calling on Michael Gove to visit.
The DfE said it was disappointed the teachers were on strike.
The school in Haringey was placed in special measures in February after an Ofsted report ordered by Mr Gove.
The DfE said Downhills had been under-performing.
The Ofsted report declared the school inadequate.
Required standards
The DfE said the school, which was last placed in special measures in 2002, had struggled to reach the required standards and has told Downhills it must become an academy.
Since the latest Ofsted inspection the head teacher Leslie Church has resigned and the board of governors has been dismissed by Mr Gove and replaced.
A parent of a pupil at the school has begun legal action, challenging Mr Gove's decision to sack the original board.
The school has claimed Mr Gove is illegally attempting to force academy status on it and attainment records from an interim Ofsted report last September suggested standards were improving.
The striking teachers, who are members of the National Union of Teachers (NUT), first went on strike last month.
NUT general secretary Christine Blower said: "This is another example of the education secretary forcing his will and vision for education upon communities who do not want to see their schools handed over to unaccountable sponsors."
A spokeswoman for the DfE said: "Downhills has been under-performing for several years.
"That is why the secretary of state took the decision to replace the previous governing body with an interim executive board and why he is also currently considering whether this school should become an academy, with an outstanding sponsor to give it the external leadership and expertise it needs to improve."