Health clinic for Olympic athletes unveiled
18 June 2012

From the section

London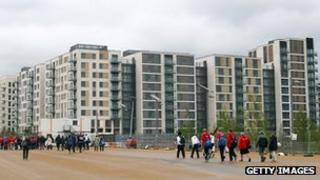 Up to 200 athletes a day may be treated at a medical clinic in the Olympic Park during the London 2012 Games, organisers have announced.
The "polyclinic", based at the east London park, will play key part in keeping medal hopes alive.
Up to 16,000 Olympic athletes, 6,200 Paralympic athletes and team officials will be able to use the 24-hour facilities.
The doping control station to identify drugs cheats will also be based there.
The team will most commonly be treating strains and sprains, minor illness such as the common cold and superficial trauma such as grazes.
A team of 10 London 2012 staff, 500 Games Maker volunteers and 80 on-call specialists have been recruited for the task.
Sports medicine, imaging, physical therapies including physiotherapy, dentistry, optometry, podiatry, an in-house pharmacy and primary care services plus a broad range of on-call specialists are some of the things on offer.
Clinic's 'vital role'
The site includes a battery of equipment which London 2012 described as "among some of the most sophisticated medical equipment currently available in the UK".
The athletes' villages outside the Olympic Park - in Egham, Surrey, for the rowing and in Portland for the sailing - will also have polyclinic services.
According to London 2012 chairman Lord Coe, the clinic and the people working within it will have "a vital role" in helping the competitors to achieve their best.
He said: "We have always put athletes' needs at the heart of the Games.
"When they are preparing for the most important moment in their sporting careers, it's vital they are in peak condition with all the support they need."
London 2012's sports director Debbie Jevans said: "Even the most minor ailment can have serious implications upon an elite athlete's performance.
"We have worked hard to equip the polyclinic to respond quickly and provide athletes with the treatment they require on site."
The clinic will be taken over by the NHS after the Games when the Olympic site is turned into a residential and community venue.
It will include a full range of primary healthcare services such as a GP surgery, a pharmacy and dentist.
No decision has been made on whether there will also be outpatient, physiotherapy services, a children's clinic and diagnostic facilities including X-ray and ultrasound.