British children set Buckingham Palace world record
12 June 2012

From the section

London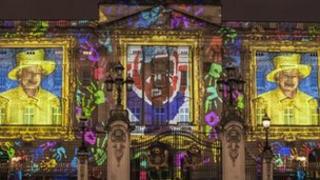 An image of the Queen, made up of more than 200,000 children's self-portraits, has broken the record for an art installation worked on by the most artists.
The image was projected onto Buckingham Palace for three nights in April to celebrate the Jubilee and Olympic year.
Guinness has verified that the 201,948 children beat the previous world record of 28,267 artists held in Israel.
The collection of portraits will be handed over to the British Library.
The Prince's Foundation for Children and the Arts said the project, Face Britain, was devised to celebrate the Queen's birthday and provide a "vibrant snapshot" of the 2012 generation.
The educational charity, founded by the Prince of Wales, developed the project.
It invited anyone between four and 16 to upload their self-portraits to an online gallery.
The projection was created by artist Ross Ashton.
Jeremy Newton, chief executive of The Prince's Foundation for Children and the Arts, said: "This would not have been possible without the overwhelming response from children and young people in England, Northern Ireland, Scotland and Wales."
The previous record for the most artists working on the same art installation was set in Tel-Aviv in 2009 with participants producing an artwork resembling the flag of Israel created out of fingerprints.