EastEnders extra jailed for Jean Jobson murder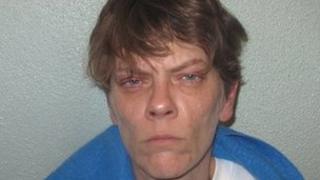 A woman who admitted bludgeoning an 86-year-old to death at her home in south-east London has been jailed for life.
Karen Williamson, 46, pleaded guilty to the murder of Jean Jobson in Oakridge Road, Downham, in February 2011, where she was paid to clear the garden.
Williamson, of Rangefield Road, Downham, who has worked as an extra in EastEnders, attacked the victim with a hammer and heavy glass jug.
She was jailed for a minimum of 24 years at the Old Bailey.
Ms Jobson, who was also known as Pat, was found with severe injuries at her home of more than 40 years.
Sentencing Williamson, Judge Paul Worsley QC said: "Pat Jobson was an independent, alert, caring member of the community, much loved by her family.
"The attack which you carried out was frenzied and brutal. Pat Jobson, despite her age, put up a valiant fight against you.
'Cruel and despicable'
"It was a murder of a vulnerable 86-year-old woman who was in the sanctity and privacy of her home where she deserved to be able to think that she would be safe. She was not."
The killer, a crack cocaine addict who worked as a delivery driver and casual gardener, was paid in advance by the victim for the gardening work.
But she had not finished the work and later went to see the widow and attacked her, the court heard.
She also took some items of jewellery, which she sold for £61.
Earlier prosecutor Brian Altman QC told the court the manner of the killing "defies belief because of its nature and savagery".
In a victim impact statement, Ms Jobson's nephew Mark Montgomery said: "We can't express the anger we feel towards the person responsible for Pat's horrific murder.
"My entire family are bewildered as to how this ever occurred, especially to Aunty Pat who was loved and respected by so many.
"She was in good health for her age and in no way deserved to have her life cut short in such a cruel and despicable manner."
Following the sentencing, Det Ch Insp Cliff Lyons said: "It was one of the most horrific murders I've come across.
"It was a callous murder that saw (Williamson) do a number of things, including stealing a ring, necklace and earring from the dead body of Pat Jobson and later selling them for a measly £61."