Stephen Lawrence: Home office orders police probe review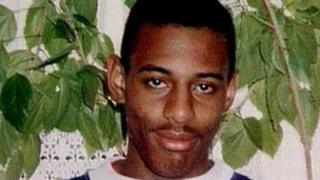 The home secretary has ordered an independent review into the police inquiry into allegations of corruption in the Stephen Lawrence murder case.
Theresa May will appoint a QC to review the Met Police inquiry which on Thursday rejected claims of corruption in the original investigation in 1993.
Stephen, 18, was stabbed to death by racist killers in Eltham, London.
David Norris and Gary Dobson were convicted of murder in January this year and jailed for life.
A Home Office spokesman said: "The home secretary has asked for a QC-led review of the work the Metropolitan Police has undertaken into investigating claims of corruption in the original Stephen Lawrence murder investigation."
The scope of the inquiry and the barrister who will be in charge have not yet been decided.
A Met spokesman said the force would not be commenting.
The Met had launched an inquiry after allegations the investigation was hindered by a corrupt officer, who may have taken a bribe from one of the murderers' fathers.
The allegations were first made in a BBC programme in July 2006, which reported former police detective Neil Putnam saying Det Sgt John Davidson took a bribe from Clifford Norris, father of David Norris.
But the report concluded: "No investigations, nor the inquiry, have uncovered evidence of corruption or collusion which could have adversely affected or otherwise influenced the path of the original investigation or subsequent investigations."
A previous Independent Police Complaints Commission inquiry concluded there was no evidence of corruption.
Stephen's mother, Doreen Lawrence, has called for the reopening of the major public inquiry into the circumstances of his death.
Shadow Home Secretary Yvette Cooper said progress in eliminating racism in the police force should also be publicly reviewed.
She added: "After the history of problems in this case, everything possible should be done and be seen to be done to ensure the fullest possible confidence in the police investigations."