Fridge firm Beko faces no charges over Wealdstone fire death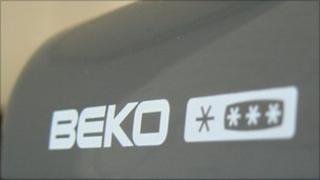 No manslaughter charges are to be brought against Beko after one of its faulty fridge-freezers caused a fire in which a man died.
Santosh Benjamin-Muthiah, 36, died from a lack of oxygen in Wealdstone, north London, in November 2010.
The coroner at his inquest asked police to see if the company was in any way responsible for the death.
London Fire Brigade (LFB) had warned Beko about the problem with some fridge-freezers in June 2010.
A Metropolitan Police spokesman said: "Following the investigation, the Metropolitan Police with the Crown Prosecution Service concluded there was no realistic prospect of prosecuting Beko for manslaughter or corporate manslaughter."
LFB said last year that up to 500,000 fridge-freezers could be affected across the UK, and a blaze at a tower block on last June in Bermondsey, south-east London, was caused by the faulty appliance.
The company has recalled the affected appliances.
It was also revealed that some faulty Beko fridge-freezers began catching fire as long ago as 2007, and fires have been reported in Devon, Surrey, Northamptonshire, Oxford and Cheshire.
People who own models that were manufactured between January 2000 and October 2006 have been advised to check Beko website to see if their appliance is affected.
Timer switch
The problem occurs when water gets into the defrost timer switch, which can lead to an electrical malfunction resulting in plastic components and other highly flammable insulation inside the appliance catching fire.
A Beko spokesman said the firm had undertaken an extensive information campaign, with staff visiting almost 500,000 homes, modified over 180,000 units and scrapped about 121,500.
He added: "Our deepest sympathies are with the family and friends of Mr Muthiah.
"Following the incident, Beko and the LFB investigated the fridge-freezer that caused this fire and identified conclusive evidence of the fault.
"As soon as we had this, we made the decision to take immediate corrective action to begin a modification programme."