Metropolitan Police seize £4.1m of counterfeit coins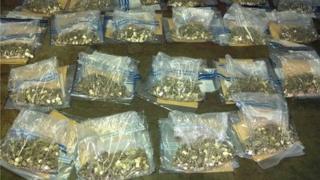 Some £4.1m in counterfeit coins has been seized in north London, Hertfordshire and Essex, police said.
The haul included four million blank coins apparently due to be turned into pound coins, and £107,000 in completed counterfeits.
It is thought to be the biggest recovery of fake coins in the UK.
Three men have been arrested on suspicion of offences such as production of counterfeit monies, money laundering and fraud.
The men, aged 27, 43 and 52, are being held in custody.
Det Insp Bruce South said: "This seizure is a significant blow to the network behind it - individuals clearly intent on undermining the UK monetary system by producing counterfeit currency on an industrial scale."
The officer said work was being carried out "on a daily basis" to disrupt organised criminal networks.