Drug charges after Soho Met Police operation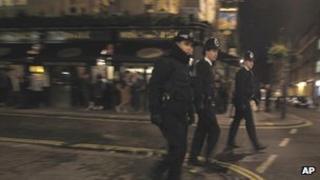 Twenty people are charged with drug offences following a Metropolitan Police operation in London's West End.
The charges were part of Operation Trafalgar which is targeting street dealers in Soho.
The covert operation involved officers observing people they suspected of selling heroin and cocaine.
Operation Trafalgar launched on 29 March with extra officers deployed in Westminster to reduce robberies, violence, sex crimes and vehicle crime.
Of the 20 charged, two have been was bailed to appear at Westminster Magistrates' Court on 21 May.
The remaining 18 people appeared at Westminster Magistrates' Court on 19 May.
One man pleaded guilty to offering to supply Class A drugs.
Thirteen men and three women were remanded in custody to appear at Southwark Crown Court on 12 June and one woman was granted bail. Her court date is yet to be confirmed.
Since March extra officers have been deployed into the West End, especially on a Thursday, Friday and Saturday night, in a New York-style operation to increase visibility and reduce crime.
A large range of tactics are being used including using road-side check points, clamping down on illegal traders, closing down problem clubs and bars and enforcing no-street-drinking zones.
The operation is scheduled to run for at least 24 weeks.