Plan B talks about his new London film Ill Manors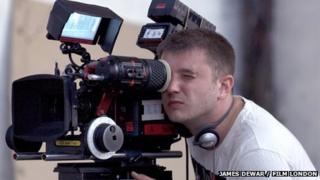 This week sees the release of Plan B's debut film Ill Manors which draws on the musician's life growing up in London.
The movie follows the stories of six disparate Londoners struggling to survive on an east end estate and is set against the backdrop of last August's riots.
"I wrote a film that was based on a true story that happened to me and my family," said Plan B, whose real name is Ben Drew.
"I had some friends around my house one summer and we went to the off licence.
"One of my friends took a BB gun out in the street with us and a plain clothes police officer saw us.
"My house got raided by the police - so I wrote a feature film about it."
Initially, the rapper struggled to get the film made because he was a novice director.
"I realised that I can't expect people to trust me with £1m until they know I can direct," he said.
"It was the same with the music. I used to tell people that I wrote songs and people just dismissed me until I went out, bought a guitar and learned how to use it - and started performing live."
So he took the last £2,000 from his recording advance and some money left to him by his late grandfather, and made a short film called Michelle.
It proved to be a springboard and within four months Drew had written its successor, Ill Manors.
After doing the rounds of the big companies Drew secured the backing of Microwave, Film London's funding scheme which champions debut film makers.
'Chicken and egg'
Drew wanted his drama to show the lives of marginalised Londoners, from drug dealers and teenage prostitutes, to young immigrants and disaffected youths.
"My reason for making this film is to show that there is a lot we can learn when we know all the facts; when we explain the 'why' - not just the 'what' and 'how'," he said.
Music plays an important role and certain parts are narrated by hip hop songs.
But fitting together the film's soundtrack and its dramatic scenes proved to be challenging for the first-time director.
"We'd turn up on set and I'd tell the guys to improvise," he said.
"The problem was that when they improvised, magic would happen, but this messed up the whole structure of the film for me.
"It was like chicken and egg. I didn't want to write the song until I'd edited the scene but I couldn't really edit the scene until I had the music, so it was a bit of a nightmare."
The resulting songs have a strong social message and can be described as hip hop protest songs.
"I wanted Ill Manors to open people's eyes - of all classes - and to give hope to kids on estates. I wrote the first single after the London riots, because I felt so strongly about it," said Drew.
"The whole point of Ill Manors is to illustrate that society needs to take some responsibility for the cause of these riots, and address why there are so many kids in this country that don't feel they have a future."
'The real thing'
Drew does not have an acting role and the film casts a number of unknown actors from east London.
"I needed the real thing," explained Drew.
"I ended up stopping people in the street and I went to schools; that's where we found Ryan De La Cruz.
"I found him at Rokeby School [in Newham]. It was a challenge for him because it's quite a harrowing film. But I thought his performance was outstanding."
De la Cruz acts alongside established stars like Riz Ahmed whose experience helped to inspire the young cast.
"Riz was the only person who could play it really. And it was the best piece of luck that ever really happened to the film.
"We all know he's a great actor but he is also great for the other actors."
Ill Manors is one of two films which Drew has coming out this summer - he stars in the movie version of 70s cop show The Sweeney.
Drew believes one complements the other.
"The bonus of doing exciting stuff like directing your own film and then starring in a film alongside Ray Winstone is that one will feed the other.
"If I do a song for The Sweeney there's every chance that song will be chart eligible and go top 10 - and the promotion of the film will feed the single and vice versa.
"All that stuff is a bonus when the stars align for you and it gives you every possible chance for your work to be as successful as possible."
Ill Manors opens on 6 June in the UK.