Remploy workers protest at Parliament over closures
9 May 2012

From the section

London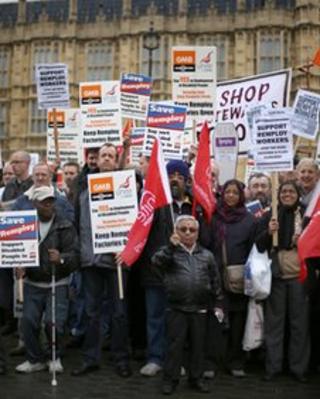 Workers whose jobs are under threat from plans to close factories employing disabled people gathered in London for a protest rally.
Unions have said up to 1,700 workers could become unemployed this summer if plans to close 36 of the 54 factories run by Remploy go ahead.
The government says "non-viable" Remploy factories should close and the money be invested into other schemes.
The London protest was the latest in a series across the country.
Remploy workers are employed in enterprises that vary from furniture and packaging manufacturing to recycling electrical appliances and operating CCTV systems and control rooms.
Among the protesters who travelled to central London for the demonstration were factory workers from Spennymoor in County Durham and Barrow and Cleator Moor in Cumbria.
After a protest outside the Department for Work and Pensions, the group moved to Parliament where members held a meeting chaired by Labour MP for Wansbeck Ian Lavery.
'Outrageous' decision
Phil Davies, national secretary of the GMB union, said: "This lobby of Parliament and the demonstrations around the country are a measure of the massive public support for continued funding of the Remploy factories."
A report by Liz Sayce, chief executive of Disability Rights UK, into the way in which the government spends its disability employment budget recommended government funding should focus on support for individuals, rather than subsidising factory businesses.
She recommended the cash should be diverted into the Access to Work fund, which provides technology and other help to firms for the disabled, whose average spend per person is £2,900.
The Department for Work and Pensions said about a fifth of that budget was currently spent on Remploy factories, but added that almost all of the factories were loss-making and last year lost £68.3m.
But Mr Davies said it was "outrageous" that the government could take away the jobs of disabled workers.
Support fund
Kevin Hepworth, Unite officer with responsibility for Remploy, said: "We have received a huge number of telephone calls from disabled people who are concerned that their family members and members of their community will be denied this type of support in the future."
Unions have said there is no way disabled people will be able to find work in the current climate.
Remploy factories in Wales will be among those hardest hit, with proposals to close seven of its nine factories, affecting up to 272 staff.
An £8m fund is being set up to help those affected find alternative employment.
The 36 Remploy factories due to close are: Aberdare, Aberdeen, Abertillery, Acton, Ashington, Barking, Barrow, Birkenhead, Bolton, Bridgend, Bristol, Chesterfield, Cleator Moor, Croespenmaen, Edinburgh, Gateshead, Leeds, Leicester, Manchester, Merthyr Tydfil, Motherwell, Newcastle, north London, North Staffs, Oldham, Penzance, Pontefract, Poole, Preston, Southampton, Spennymoor, Springburn, Swansea, Wigan, Worksop and Wrexham.