Harry Potter author JK Rowling gets freedom of the City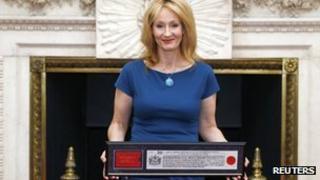 Harry Potter creator JK Rowling has been honoured with the freedom of the City of London.
The author, who has sold more than 450 million copies of her books, was given the accolade in recognition of her services to children's literature.
Rowling was given the honour at the Mansion House in the City, where she was presented with a framed parchment certificate.
She said: "I am prouder than I can say to be given the freedom of the City."
She joked that the honour entitled her to "a free pint in the Leaky Cauldron and a ten Galleon voucher to spend in Diagon Alley".