Conker row trial: Boy claims friend stabbed victim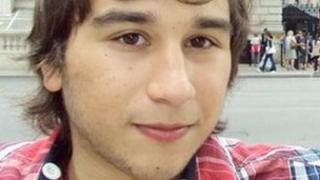 A 15-year-old boy accused of murder in a row over conker throwing told a court his friend had stabbed the victim.
Steven Grisales, 21, was stabbed in August after he went over to talk to some youths who had been throwing the conkers still in their spiky husks.
The teenager said his friend had stabbed the student while "defending" him in Edmonton, north London.
The boy, who cannot be named, denies murder and claimed the victim tried to hit him with a skateboard.
The defendant told the Old Bailey jury that he had been "larking about" with two male friends and two girls in College Close and the group had been throwing spiky green conker cases at each other.
One of the conkers narrowly missed Mr Grisales, who was walking past. He became angry, picked up a nearby skateboard and tried to hit the defendant, the boy told the court.
He dodged the blow and punched Mr Grisales, the jury heard.
The teenager said one of the girls said 'take the knife' to his friend after which he "appeared to punch" Mr Grisales. The three boys then ran off from the scene.
The jury was shown CCTV footage before and shortly after the incident, but there are no pictures of the actual attack.
In the footage the defendant can be seen wearing a brightly patterned track suit top, which he later took off and held in his hand as he fled the scene.
When Andrew Edis QC, prosecuting, asked him why he took his top off, he said: "I was scared... because someone got stabbed and I was wearing bright clothes."
'Deliberately hidden'
"Who had done the stabbing?" asked Mr Edis, and the boy gave the name of his friend, who is also aged 15 and cannot be named for legal reasons.
Mr Edis asked him if he asked the other boy why he had stabbed Mr Grisales.
The defendant said: "He said he didn't know what to do, so he stabbed him."
The multi-coloured top was handed over to the authorities earlier this week by the defendant's legal team.
Mr Edis suggested the top was deliberately hidden so that it could not be subjected to forensic tests.
The defendant denied this, adding that after his mother had found it in his back garden last December he had told his solicitor about it.
The trial continues.