RMT 'to sue over mayor Boris Johnson's poster'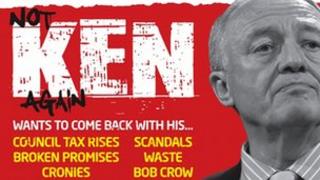 The RMT has started legal action against Boris Johnson over a poster allegedly portraying leader Bob Crow as "corrupt, venal and scandalous".
The "Not Ken Again" poster began appearing in March and features Mr Crow's name alongside the words "scandals" and "cronies".
The transport workers' union says it has launched a High Court defamation action over the disputed poster.
The mayor's spokesman described Mr Crow as a "delicate flower".
An RMT spokesman said: "RMT can confirm that we have today commenced a High Court action for defamation on Boris Johnson over his Not Ken Again poster campaign which falsely portrays our General Secretary Bob Crow as being part of a culture of political immorality and as having caused serious harm to the interests of people in London.
"RMT will be making no further comment and will be giving no interviews on this matter as it proceeds through the legal process."
'Scare tactics'
A spokesman for Boris Johnson said: "We didn't know Bob Crow was such a delicate flower that he would be upset by something that is fair comment and entirely supported by the facts.
"Boris has instructed his solicitors that he intends to robustly defend this baseless claim."
Mr Livingstone's spokesman said they would not be commenting on the action.
However, after the poster's publication a spokesman for Ken Livingstone accused the mayor of "scare tactics", saying they were now "blowing up in his face".