London parents concerned for their children's housing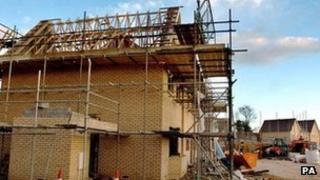 London parents are concerned that their children will not be able to live in the capital in the future.
According to a survey, 81% of parents believe their children will be unable to afford a home in the capital.
The National Housing Federation (NHF), which represents housing associations throughout England, commissioned the poll.
It is blaming a lack of affordable housing as the most significant cause of parents' concerns.
Unemployment and crime were also cited as barriers to living in the capital.
'Growing exodus'
Kate Dodsworth, NHF's assistant director, said: "The poll results highlight London's core problem - we are a first-class city with a third-class housing system.
"Parents are increasingly anxious about their children being able to live and work in the capital in the future, as house prices spiral further out of reach, and private renting costs soar.
"The capital urgently needs more affordable homes."
The NHF is asking the next mayor of London to build more homes, free up disused public land for affordable housing and help first-time buyers by pressuring banks to lend sensibly.
Boris Johnson, the Conservative mayoral candidate, told The Andrew Marr Show in March that he plans "investment in building new homes for Londoners who can't afford to get on the housing ladder".
Labour candidate Ken Livingstone has pledged in his manifesto to work to reduce rents and improve homes with a non-profit lettings agency.
Liberal Democrat candidate Brian Paddick has promised to build more affordable housing in London and tackle unaffordable rents and rogue landlords.
The Green Party's candidate Jenny Jones says she will make housing more affordable, refurbish a million homes and stabilise rents.
'Human cost'
The NHF claims that in London more than 362,000 households, comprising some 800,000 people, are on social or affordable housing waiting lists and 237,000 families, made up of 590,000 people, live in overcrowded homes.
Shelter is also making demands of the next mayor.
The housing charity wants the mayor to give the same leadership and profile to housing that transport receives.
It has called for the setting up of a public-focused agency, which it calls Homes for London, to bring together the "complex web of budgets and departments".
Shelter's Kay Boycott said the NHF's poll was "more evidence of the human cost of London's housing crisis".
She added: "Last month, Shelter research found that almost a third of Londoners - over 1.8m people - say they expect to leave London in the future because of the high cost of housing, with 44 the average age they expect to be forced out.
"Unless something is done to fix London's housing, we're going to see a growing exodus of people who have simply given up hope of ever finding a stable and affordable place to live in the capital."
The NHF's poll was carried out by YouGov in March.