London Underground workers to strike for 72 hours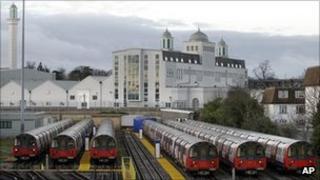 Workers who maintain and upgrade lines on London Underground (LU) are to go on strike for 72 hours next Tuesday.
Talks aimed at averting the action are to be held on Thursday, conciliation service Acas said.
The strike follows a row over pensions and benefits, the Rail Maritime and Transport Workers (RMT) union said.
The union, which represents about 1,000 Tube Lines staff, added workers had voted 4-1 in favour of the strike which begins at 16:00 BST.
The RMT has written to LU bosses to demand safety assurances during the strike.
A letter RMT general secretary Bob Crow said: "During this period not only will there be no track patrolling or signal maintenance on the Jubilee, Northern and Piccadilly lines but more critically for the whole network there will be no Emergency Response Unit (ERU).
"Should you attempt to run a service during the period of industrial action I shall advise RMT members of their option to remove themselves to a place of safety should they feel that their working conditions place them at risk of 'serious or imminent' danger."
Earlier, a spokesman for Tube Lines said the strike on the issue was "completely unnecessary".
Union members want to join Transport for London's (TfL) pension scheme and receive travel concessions.
The union says other people who work for LU receive these benefits and it was time "all groups of staff under the umbrella of LU receive the same rights and benefits".
Tube Lines operations director Lee Jones said: "A strike on this issue is completely unnecessary and will not achieve anything.
"We urge the RMT leadership to end their strike threat and return to talks, as it will only be resolved through constructive discussion."
He added: "Should a strike go ahead, we have plans in place which will enable LU to operate Tube services on all three lines and to minimise any disruption."