Forest Hill man shot by police arrested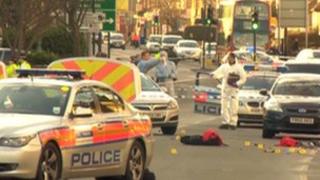 A 25-year-old man who was shot by police in south-east London has been arrested.
The man was shot after officers were called to reports he was trying to break into a car in Elsinore Road, Forest Hill, on 19 February.
The man threatened three officers with a "large bladed weapon" and was shot with firearms and a Taser, police said.
He has been arrested on suspicion of the attempted murder of three police constables.
'Fit for arrest'
He is also suspected of possession of offensive weapons, criminal damage relating to a private car and a police vehicle and affray.
A police spokesman said: "His condition has now improved and following medical advice he has been deemed fit for arrest.
"However, he will remain in hospital under police guard until he is deemed fit for discharge."
The police watchdog, the Independent Police Complaints Commission, is conducting an independent investigation into the incident.