Riot accused 'ashamed' of Malaysian student attacker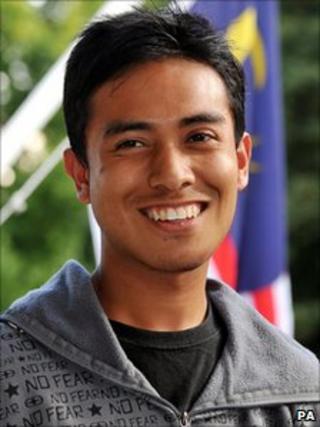 A teenager who denies smashing a Malaysian student's jaw during the London riots has told a court he was ashamed of the person who did it.
Ashraf Rossli, 20, was attacked and his bicycle was stolen in Barking, east London, last August.
The 17-year-old youth told Wood Green Crown Court he was "disgusted" by the assault.
He denies causing and inflicting grievous bodily harm but admits stealing the bicycle.
The defendant said: "I felt ashamed of the person who did assault Mr Rossli.
'Very ashamed'
"I felt very disgusted with what happened and I feel very sorry for him."
Mr Rossli had been in the UK for about a month when he encountered a mob during the riots and was attacked.
The accused teenager said he took the bike because he was "tired" but insisted a witness was mistaken in saying the person who punched Mr Rossli also stole the bike.
The defendant, who cannot be named for legal reasons, has also admitted that before stealing the bike he committed violent disorder and two counts of burglary by breaking into a betting shop and a food and wine store.
Asked by his barrister, Robert Shaw, how he felt about himself, he answered: "When I watched the footage in interview I was very, very ashamed of myself and panicked and was very worried.
"I didn't mean to take the bike that was on the floor and not aware of anyone who was there being injured.
"I don't think it was right and feel very sorry for what I did."
The jury were shown CCTV footage of the moments after the attack in which only a few people were present as the victim sat bloodied on the floor.
Christopher Hehir, prosecuting, told the defendant: "It's just you and three others."
Several times the youth said he could not remember details such as why he wore a hoodie and heavy jacket on a summer's day and repeated that he was "tired" so took the bicycle.
He said he knew there was going to be trouble that day and "got caught up in the crowd and got excited" but said he was "not at all" interested in stealing property.
The case continues.