Gun victim Agnes Sina-Inakoju's brother tells gangs 'help police'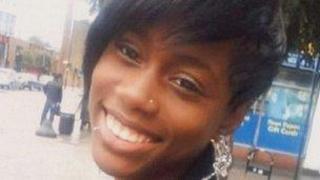 The brother of a teenager gunned down in a take-away has urged gang members to help combat killings by coming forward with information.
Abiola Adesina, 33, is supporting a new initiative by the Metropolitan Police to tackle gangs in London.
His sister Agnes Sina-Inakoju was 16 when she was shot dead in a takeaway in Hoxton, east London, in April 2010.
The Trident Gang Crime Command will work with boroughs - 19 of which will have dedicated gang crime task forces.
Mr Adesina, who has moved away from London to Northampton after 14 years, welcomed the new initiative.
He said he hoped it would help to prevent more families from going through the pain he has endured since Agnes's death.
'Key evidence'
"If someone in a gang can talk to someone and if they can be convinced that what they're doing is wrong and if they can give up being in gang... at least we protect him from himself and protect other families from him because you never know what is going to happen," said Mr Adesina.
Agnes, a schoolgirl hoping to go to Oxford University, was fatally wounded when she went to buy a pizza at the Hoxton Chicken and Pizza Shop.
She was the innocent victim of gang-fighting, when Leon Dunkley and Mohammed Smoured, members of the London Fields gang, decided to target the shop believing members of the rival Hoxton Boys would be there.
Agnes, who would have turned 18 in September, was taken to hospital but died two days later.
Last year, gunman Dunkley, 22, and look-out Smoured, 21, were jailed for life with minimum terms of 32 years each for her murder.
A third gang member was spared jail after he gave key evidence against the killers.
Judge Peter Beaumont, the Recorder of London, said that in the "exceptional" circumstances he would instead make a three-year youth rehabilitation order despite the youngster admitting gun and drug offences.
He said if jurors had not believed the witness's evidence "those men would not be serving the sentences that they are today".
Urging others in gangs to come forward, Mr Adesina said: "Tell the police or your parents or tell people you know can protect you, and then you are at no risk of being killed or going to prison."