'Witch torture' trial: Man 'told father he would kill son'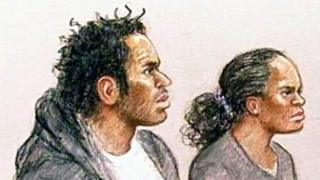 A man accused of torturing and drowning a teenager he believed to be a witch told the boy's father that he would kill him, the Old Bailey has heard.
Pierre Bamu said Eric Bikubi had told him to come and collect his 15-year-old son Kristy.
Kristy, from Paris, was found dead in a bath in a flat in Newham, east London, where he had been staying, on Christmas Day 2010.
Both Mr Bikubi and Magalie Bamu, Kristy's sister, both 28, deny murder.
Mr Bamu, who lived near Paris, said he did not take the threats seriously because Mr Bikubi, his daughter's boyfriend, was a kind person and so close to him that he called him "Dad", the court heard.
'Well-respected lad'
"The Eric that I see over there and the Eric that I knew then, it's the same difference as night and day," Mr Bamu told the court.
"He was a well-respected lad and he never called me by my first name, he called me Dad."
The Old Bailey has heard that the pair began accusing him of witchcraft, and beat Kristy.
Kristy was attacked with weapons including a hammer and weight bar before he drowned in a bath, the court has heard.
Speaking through a French interpreter, his father told a jury that he had a telephone conversation with Ms Bamu on Christmas Day.
"She said 'Dad you've got to pick up the children because they're witches and you're a witch too'," Mr Bamu told the jury.
He said he then had a conversation with Mr Bikubi.
"He said 'You've got to come and pick up the children, you've got to pick up Kristy because he's a witch and he's practising witchcraft," Mr Bamu said.
'Eric will kill me'
"He said 'If you don't I'm going to kill him'.
"When he said that, I wanted to say something to him, then straight after that I heard Kristy's voice.
"Kristy was talking in a calm voice. He wasn't crying. He just spoke to me in a voice like we're using now. 'Dad come and get me or otherwise Eric will kill me'. And then the telephone was cut off."
Mr Bamu tried to hire a car to drive to London, but car hire firms were shut because it was Christmas Day.
He said he decided to come to England the following Monday because he could not believe that Mr Bikubi would harm his children.
"When Eric said that, knowing Eric as I do, I said 'It's not going to come to that because he's a nice person, a really nice person'," he said.
Mr Bikubi has admitted manslaughter on the grounds of diminished responsibility, as well as two charges of causing actual bodily harm to Kristy's siblings.
Ms Bamu denies murder and causing actual bodily harm to her siblings.