London 2012: Thames River Park will not be ready for Olympic Games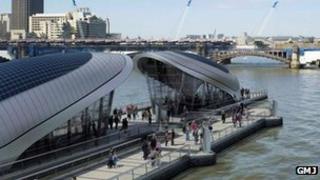 A floating pier proposed for the Thames in central London has been delayed and will now not be built before the Olympics.
The River Park, which is to stretch 1km (0.6 miles) from the Millennium Bridge to Custom House Access Bridge, was hailed as an "amazing and unique attraction" by Mayor Boris Johnson.
But its layout and its impact on the river have faced criticism.
The project developer said feedback meant a redesign was now needed.
John Naylor, director of London River Park, said: "While Londoners as a whole are supportive of the scheme, it is clear local residents and river users would like us to look again at certain elements of the scheme.
"We are now reviewing the scheme, taking into account what we have been told.
"We are no longer proposing to take the scheme into the construction phase in advance of the Olympic Games."
'Premature announcement'
It had originally been hoped the project would be completed in time for the Queen's Diamond Jubilee celebrations in June.
A spokesman for the developer would not be drawn on an estimated date of completion.
The pontoon was originally planned to remain in place for five years. Eight themed pavilions are proposed which would showcase London.
The Port of London Authority has warned the developer's own risk-assessment pointed out that the platform could be "hit by barges".
Darren Johnson, Green Party London Assembly member, said: "It's no surprise that Boris Johnson's promise of a Thames Walkway in time for the Olympics has been sunk after fears that it posed a navigational hazard.
"The mayor of London's premature announcement last year was a clear example of headline grabbing, before rigorous safety and financial checks had been carried out."
A spokesman for the mayor of London said: "Protecting and enhancing our cherished waterfront has always been at the heart of delivering this exciting project.
"It is only right that people's views are being taken into account so the River Park has their complete blessing."