London Underground: RMT drivers vote for new action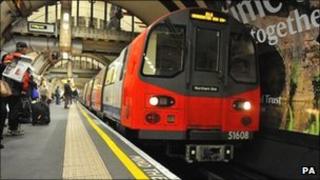 London Underground (LU) drivers have voted for industrial action in a row over safety.
The Rail Maritime and Transport union (RMT) said its members have voted four to one for action short of a strike.
The union listed a series of concerns including a new procedure for reversing a train and asking drivers to override door fail-safe systems. It blamed "massive reductions" in staff.
LU said the changes were designed to reduce delays and overcrowding.
RMT general secretary Bob Crow said: "A whole bunch of unsafe procedures are being bulldozed through in the dash for cuts, and to cover up the impact of reductions in station staff, under the guise of operational effectiveness.
"It is our members who have to deal with the consequences of these ill-conceived policies.
"We have tried to get LU to see sense, but they have continued to put cash and job cuts ahead of passenger safety and we had no choice but to ballot for action."
RMT 'out of step'
But LU said, if you included the RMT members who did not vote, just 30% of members opted for action.
Howard Collins, LU's Chief Operating Officer, said: "The fact that 70% of those balloted chose to reject the RMT's call for action short of a strike or not vote at all only shows that the RMT leadership is out of step with its members.
"I would urge them to reconsider their plans to take industrial action." 
He continued: "These procedural changes have no impact whatsoever on our high safety standards but will significantly help our response to necessary delay and crowding.
"The changes do not compromise any aspect of the Underground's stringent safety procedures."