Mark Duggan shooting: Family give IPCC 'a chance'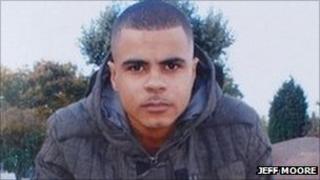 The family of a man whose shooting sparked the London riots say they will give the police watchdog a chance to get the inquiry into his death "right".
Mark Duggan, 29, was shot in Tottenham, north London, on 4 August.
His brother Shaun Hall said they wanted the Independent Police Complaints Commission (IPCC) to prove it was truly impartial and independent.
He was speaking as the family launched a campaign to provide help to people arrested during the disorder.
The Tottenham Defence Campaign will work to ensure people arrested over the riots have access to legal advice and residents are aware of their rights.
Addressing the meeting Mr Hall said the family wanted justice over the death of his brother.
'Right conclusions'
He said: "I have had various meetings with the IPCC and I have told them that I will give them a chance to prove to me and my family that they are truly impartial, they are truly independent, and they will do a good job.
"His name is all over the world, let's find out what happened, let's have the IPCC get this right.
"Let's have them prove to this country, this nation, internationally, that this is a civilised country and we can come to the right conclusions."
The Tottenham Defence Campaign said it aimed to prevent people in Tottenham being "criminalised".
Last week a spokesman said: "The campaign has been formed by local people to defend access to justice for young people amid community concerns that Tottenham will face disproportionate and unequal treatment in the wake of August's disturbances."
The launch coincided with the 26th anniversary of the death of Cynthia Jarrett, 49, which triggered the Broadwater Farm riots of 1985.
The African-Caribbean woman died from a stroke during a police search of her home. Metropolitan Police officer Keith Blakelock was hacked to death in the estate during the riots.
Tottenham was rocked by riots again, which spread to other areas of the capital and England, after Mr Duggan - who was a passenger in a minicab - was shot after being apparently stopped by officers near Tottenham Hale Tube station.