Solar panels on Blackfriars station over Thames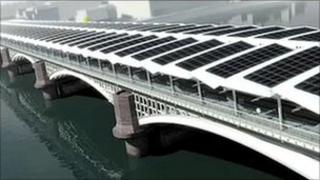 More than 4,400 solar panels are being installed on the roof of a railway station in central London spanning the River Thames.
The 6,000 sq m of panels on the revamped Blackfriars station is expected to generate enough energy to meet half its electricity needs.
The £7.3m worth of panels will be installed as part of a £5.5bn Thameslink project.
Built on a Victorian bridge, the station is the first to span the river.
Blackfriars Tube station closed for two years in March 2009 for the revamp.
The new station will also have sun pipes for natural lighting.
Following the upgrade there will be longer trains and a more frequent service between Brighton and Bedford.
Lindsay Vamplew, project director for Network Rail, said: "We're creating a spacious, modern station and delivering a vastly improved train service for passengers, while at the same time installing London's largest solar array to make Blackfriars more environmentally-friendly and sustainable.
"The Victorian rail bridge at Blackfriars is part of our railway history.
"Constructed in the age of steam, we're bringing it bang up to date with 21st century solar technology to create an iconic station for the city."