Play on first-hand riot stories staged in Kilburn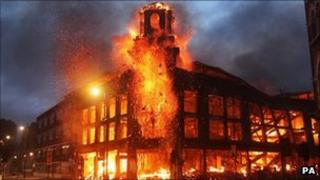 First-hand accounts of people who witnessed the riots in London and other English cities have been turned into a play.
The play written by novelist Gillian Slovo, titled The Riots, will be directed by Nicolas Kent.
The production will be staged at the Tricycle Theatre in Kilburn, north London, from 17 November.
Violence first broke out in Tottenham, north London, on 6 August, following the shooting of Mark Duggan by police.
Between 6 August and 9 August, the rioting and looting of shops spread to other parts of London and cities in England, including Birmingham, Manchester and Nottingham.
The play is based on the experiences of victims, police officers, emergency workers and those who saw the violence.
Five people died during the riots across England and more than 2,590 people have been arrested in connection with the violence in the capital.