London ticket wins unclaimed £1m lottery prize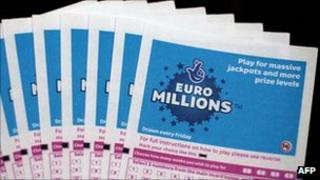 A £1m EuroMillions raffle prize that was won on a ticket bought in London has yet to be claimed.
Lottery organisers, Camelot, said the ticket was bought in the Westminster area of central London and urged lottery players to check for the winning raffle number SLW245268.
The draw for the ticket was held on 6 September, which had a jackpot of about £100m.
The ticket-holder has until 15:00 GMT on 4 March 2012 to claim the prize.
A National Lottery spokesperson said: "Try checking in the pockets of clothing, in wallets, bags and down the back of the sofa.
"We have the champagne on ice and our fingers crossed that the lucky winner comes forward to claim their win."
If the prize is not claimed before the deadline, the money and the interest generated, will be given to the lottery's Good Causes Fund.