Gangs target rough sleepers for slavery, charity warns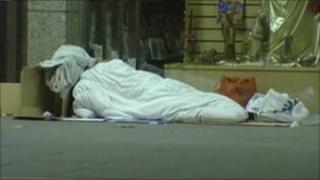 Rough sleepers are being sold as slaves to gangs for as little as £100, a charity has warned.
Thames Reach has said vulnerable people are being picked up off London's streets and held against their will.
The homelessness charity has reported that this is becoming more widespread after its staff spoke to 16 people who said they had escaped slavery.
Thames Reach's clients include two people who claimed that they were held as slaves in Luton.
Radiator burns
Megan Stewart, who works for the charity, said she has spoken to a client who had been held against their will, beaten and forced to work.
"Our client had actually been chained to a hot radiator and had a burn around his wrist where the handcuff was."
BBC London spoke to Vojtech, a Czech man who was approached by some people and offered work in return for food.
He was taken to Leicester by bus where he saw £100 being exchanged in return for him.
He said he was kept in a house while his ID was used to set up bank accounts and credit cards to pay off the gang's debts.
He escaped after one month, but Vojtech told BBC London that there is a now price on his head.
"They are always saying that anyone who will speak is dead," he said
Thames Reach has warned homeless Londoners not to accept work from people who who seem to move around the capital in gangs.