Riots: Man charged over Reeves Furniture Store fire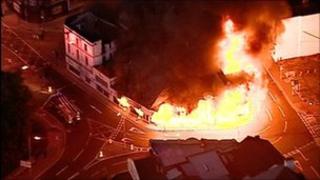 A 33-year-old man has been charged with starting a fire which destroyed the Reeves Furniture Store in Croydon.
Gordon Thompson, of Waddon Road, Croydon, was charged with arson with intent to endanger life and arson.
He was also charged with two counts of burglary and one count of violent disorder in the town centre. He was remanded in custody to appear at Croydon Magistrates' Court on Monday.
A man aged 21 and 15-year-old boy have already been arrested over the fire.
They have been released on bail.
A 25-year-old man who was arrested on Wednesday was later released without charge.
Violence erupted in Croydon on Monday night after two nights of trouble in other parts of the capital.
Demolition has begun on the 150-year-old furniture store in south London.
The Reeves family, who owned House of Reeves Furniture, hired a demolition crew so the remains of their ruined furniture store could be cleared.