Trevor Ellis death: Third man held on suspicion of murder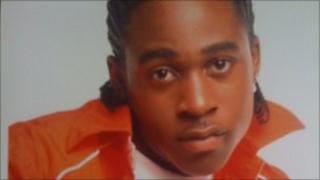 A third man has been arrested on suspicion of the murder of a father of four who was found with bullet wounds in a car in Croydon, south London.
Police believe Trevor Ellis, 26, of Brixton Hill, was shot after he and his friends were involved in an altercation with another group on Monday night.
His death is one of five that may be linked to disorder across England.
A man, 27, was arrested in Sutton, south London, earlier. Another man is in custody, while a third is on bail.
A 26-year-old man was arrested in Mitcham, south London, on Friday. He remains in custody at a south London police station.
A 24-year-old man arrested in Brighton on Thursday was later released on bail.
Two men were arrested at the scene of the shooting on suspicion of handling stolen goods. They were later bailed pending further inquiries.
Mr Ellis is one of five people whose deaths police believe may be linked to the recent disorder across England, sparked by the death of Mark Duggan on 4 August in Tottenham.
Police said initial inquiries suggested that Mr Ellis had travelled to the Croydon area with friends earlier on Monday.
Detectives believe an altercation with a group of nine people culminated in a car chase, which started in Scarbrook Road, Croydon, passing along the A232 flyover into Duppas Hill Road, where Mr Ellis was shot.
A post-mortem examination showed he died from a gunshot wound to the head.