London 2012: Day after Games to be Heathrow's 'busiest'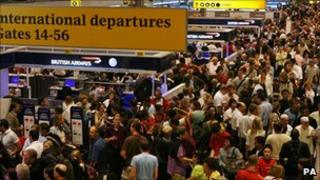 The day after the London 2012 Olympic closing ceremony is expected to be the busiest in Heathrow Airport's history.
Some 218,000 bags are expected to leave the airport on 13 August 2012, compared with the previous peak of 160,000.
A spokeswoman said Heathrow officials had been working closely with airports in other Olympic cities to judge demand.
On Friday, Heathrow was announced as "host airport" of the London 2012 Olympic and Paralympic Games.
It is estimated that the airport will welcome almost 80% of all Games passengers, including athletes, officials, sponsors, media and spectators.
The spokeswoman said the experience of airports in host cities such as Vancouver, which staged the 2010 Winter Olympics, had shown that the day after the closing ceremony saw the biggest rush.
"We expect people will arrive in dribs and drabs but they will all want to leave on the same day," she said, adding that predicted passenger numbers for the day were not yet available.
'Olympic terminal'
Some 15% of the 218,000 items of luggage expected to leave the airport that day are predicted to be outsized sporting equipment such as canoes, vaulting poles and bikes, according to Heathrow's owner, BAA.
These cannot be processed by normal airport baggage procedures and options being considered to manage the extra demand include baggage drop facilities at the Olympic village, shipping some baggage as freight, and construction of a temporary "Olympic terminal" which would be taken down after the Games.
An average Heathrow passenger carries 1.5 pieces of baggage but Olympic athletes bring an average of five bags, BAA said.
BAA chief executive Colin Matthews said: "We are tremendously proud to be the host airport of the London 2012 Games. Heathrow will be the first and last impression of the London 2012 Games for thousands of people.
"London 2012 will be Heathrow's greatest challenge. Every part of the airport is working together so we can give the world's greatest athletes the world's greatest welcome."
Mr Matthews said Heathrow would be recruiting 1,000 volunteers to help out at the airport during the Olympic Games and other major events.
Heathrow handled a record 6.9 million passengers last month, including its busiest ever day so far on Sunday, 31 July in which 233,561 passengers passed through the airport.
The airport operates at 98% capacity and is limited to 480,000 flights a year.
However, passenger numbers can fluctuate within this as not all flights are full.