London riots: Policeman rescues scared dog in Hackney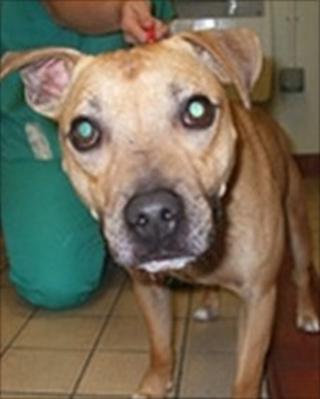 A young dog found wandering the streets during the violence in Hackney was saved by a riot police officer.
The Staffordshire bull terrier was found by the policeman in east London after his night shift in the early hours of Tuesday morning.
He took the animal to the Blue Cross animal charity in Merton, south London, on his way home.
Staff could not find any identification or microchip, so have nicknamed the dog Blaze.
Becky Dawe, deputy head nurse at the charity, said: "Blaze is a lovely, gentle boy and he has been pretty stressed-out since he arrived.
"The riot officer who brought him in was shattered after his night shift and said he had found the dog close to where the trouble was happening in Hackney.
"This poor dog must have been terrified with everything that was going on around him and he was lucky he was found."
The Blue Cross has contacted the dog warden and it is hoped the dog's owner will come forward.