Amnesty for Amy Winehouse tributes street sign thief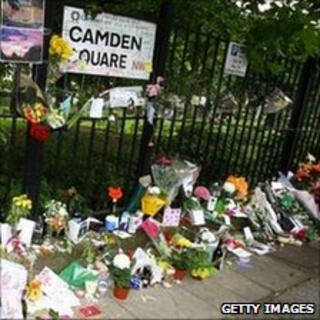 A north London council has appealed for the return of street signs stolen near Amy Winehouse's home, which featured tributes from her fans.
Camden Council said it planned to give the four signs to the singer's family. One sign was stolen on 31 July and three others on 1 August.
The council is offering an amnesty and asked for the signs to be dropped off at a local police station.
The 27-year-old singer was found dead at her Camden Square home on 23 July.
Six other street signs were removed by the council "to prevent further thefts", a spokeswoman said.
Plans for memorial
Deputy leader of the council, Sue Vincent, said: "We are appealing to the good nature and conscience of the person or persons who stole the signs and are asking for them to be returned.
"We are not concerned with who took them, and will not be investigating this if we get them back.
"The signs can be returned to any police station in Camden and no questions will be asked."
A statement from the council said the street signs in Camden Square were "removed without permission".
"Since Amy Winehouse's passing, fans have left messages on the signs, with the remaining street signs being given to the family.
"Officers are now in the process of organising replacements, which will take four to six weeks," it added.
The local authority added that there had been suggestions about permanent "fitting tributes to Amy Winehouse within the borough and that conversations are still ongoing".
Hundreds of fans gathered in Camden Square outside her home following the news of the singer's death.
Winehouse foundation
Last month Winehouse's family said it wanted to set up a foundation in the singer's name to help people struggling with addiction unable to afford private treatment.
The Rehab singer had herself struggled for years with drink and drug problems.
A private traditional Jewish funeral was held for the artist, whose second album Back to Black topped the music charts following her death.
The singer's family are currently awaiting the results of toxicology tests to establish the cause of her death after a post-mortem examination proved inconclusive.