Londoners warned to prepare for 2012 Olympics influx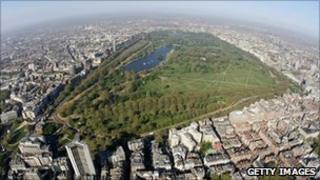 Advice on how to cope with the huge influx of visitors during the Olympic Games is being given to 68,000 homes and businesses in central London.
Information about the Central London Zone is being delivered this week.
Hundreds of thousands of people are expected to visit London during the Games, prompting traffic management changes, more pedestrian areas and parking and bus lane suspensions.
The Central London Zone surrounds Hyde Park, Green Park and St James Park.
Numerous Games venues will be based in central locations such as Horse Guards Parade, and free to view cycling and athletics events will take place on some of central London's most famous streets.
Peter Hendy, London's Transport Commissioner, said: "Central London's transformation into a major sporting venue does mean that some changes need to be made to roads and footways."
'Used to noise'
Transport for London (TfL) will be putting in place additional pedestrian and road traffic management in central London which may include restricting turns into roads, suspending parking and loading bays, and changing bus lanes and stops.
Westminster Council leader Colin Barrow said: "We are working closely with TfL and other agencies to ensure that the needs of residents and businesses are balanced with the important task of keeping London and the Games family moving."
Residents' Association of Mayfair member Leo Walters said: "The Olympics will happen whether we like it or not so we'll have to stomach it.
"We are already used to noise at Hyde Park because we regularly have pop groups there so the peace and quiet of the park is disturbed anyway."
Prof Stephen Glaister, director of the RAC Foundation, said: "There is no doubt that when the biggest show on earth arrives in London it will cause disruption to Londoners.
"Organisers and the International Olympic Committee (IOC) alike both recognise that the way travel is managed in the capital is the thing that will make or break London 2012.
"This Olympiad should be remembered for good reasons, not like in Atlanta in 1996 where an abiding memory is one of a city which didn't get the travel arrangements right."
Parts of the Olympic Route Network (ORN) will run through key areas of central London and it is expected to begin operation a couple of days before the Games on 27 July 2012.
The ORN will be disbanded as soon as possible after the Games.
All but one of the road events, the men's triathlon on 7 August, will take place at weekends.