Repairs begin on Herne Hill Velodrome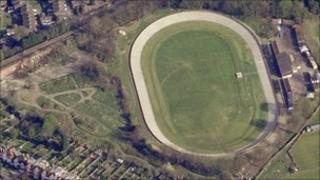 Repair work has begun to save the decaying Herne Hill Velodrome, the home of the 1948 Olympic cycling competition.
The track has fallen into ruin over the years but repairs are now under way and are expected to last six weeks.
A 15-year lease between the Dulwich Estate landowners and British Cycling (BC), as secure tenant, was signed this year.
Poor conditions meant some big events had to be shifted to other venues.
Among the first of the "extensive structural repairs" being tackled is the strengthening and resurfacing of the track, according to British Cycling's facilities officer Patrick Flanagan.
Bequest boost
He said: "It currently has a concrete base with an epoxy resin finish. This finish has failed and cracked, allowing water to enter the structure and, in conjunction with frost, cause extensive damage, alongside some settling of the concrete base.
"The repairs will provide a strong and very smooth base upon which the new track surface can be laid."
A special fine granite stone covering called MasterTrack, which is smooth, hard and dense, will then be laid.
Funding has come from BC's Whole Sport Plan and a bequest from London resident and Laune Cycling Club member Leonard Lyes, who died in July 2009.
Getting the south-east London track repaired is "a huge step forward" for the Save the Velodrome campaign which was launched in late 2010, according to BC chief executive Ian Drake.
He said: "It will provide riders of all ages with a fantastic surface on which to enjoy their cycling. Herne Hill is such an iconic venue and British Cycling is both delighted and proud of the role it is playing in helping getting it back to its former glory."
Hillary Peachey, chairwoman of the Save the Velodrome campaign, said: "These works are a turning point for the Herne Hill Velodrome. Barely a year ago the future of this incredible site was uncertain."