Fish killing Thames sewer discharge worst for 10 years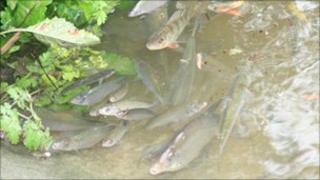 A sewage discharge in the Thames which killed thousands of fish in June, was the worst spill for a decade, the Environment Agency has said.
More than 450,000 tonnes of sewage overflowed into the River Thames in west London on 5 June.
Thames Water carried out a clear-up operation along a 12km (7.5m) stretch between Kew and Albert Bridge.
The firm said a spill is worse after a long dry spell when solid material built up in pipes is also discharged.
The Environment Agency said more than 250,000 tonnes of storm sewage from sewer overflows and at least 200,000 tonnes of storm sewage from the Mogden sewage treatment works in Isleworth, was released into the river.
The agency said discharges from combined sewers happen 50 to 60 times a year and can be caused by as little as 2mm of rainfall.
On 5 June more than 30mm had fallen over west London.
Thames Water is currently reviewing responses to the first round of consultation on plans for a 20-mile (32km) "super-sewer".
The proposed Thames Tunnel would run from west to east London, broadly following the route of the river, collecting storm sewage.
Martin Baggs, from Thames Water, said: "We very much regret the fish kill and other environmental damage resulting from the discharges of storm sewage.
"Incidents like this are clearly totally unsatisfactory in a modern capital city and we have a major programme of work under way to sort the problem out.
"In the west London area, this includes a 50% increase in treatment capacity at our Mogden sewage treatment works, which will be complete early in 2013, and the proposed Thames Tunnel."
If approved, construction on the tunnel would begin in 2013 and be completed by 2020.