Investment in London's affordable housing 'crucial'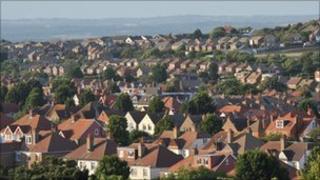 A pledge of 150,000 affordable homes nationwide and long-term housing plans are dependent on government investment in London, according to a report.
The study also found that London has a greater need for subsidised housing than the rest of the country.
The Department for Communities and Local Government said it has already contributed £200m and will continue to give powers to local authorities.
The report was commissioned by the g15 group of housing associations.
Spillover benefits
The independent report, which was produced by the London School of Economics (LSE) and Political Science, used the Replacement London Plan of providing 13,000 affordable homes each year as its starting point.
Three main criteria for allocating subsidy were considered: housing need, the wider benefits of affordable housing to the health of the economy and the public purse, and the issue of housing numbers.
The report also concluded that there was a strong case for including need as a core criterion for allocating capital grant for housing investment.
Among its other findings were that affordable housing investment in London will be used more intensively than elsewhere and will have greater impact on reducing the need for public money by alleviating social costs, and that investment in affordable housing in London helps to support the broader economy, creating spillover benefits for the rest of the country.
The successful delivery of affordable housing needs subsidy and London has a relatively greater need for subsidised housing than the rest of the country, was another finding.
Economic benefits
Stephen Howlett, chief executive of London housing association Peabody and outgoing chair of g15, said: "The report clearly sets out the pressing need for affordable housing in London and the far-reaching social and economic benefits of investment.
"We want to work with government to find new ways of providing the homes London so badly needs."
A Department for Communities and Local Government spokesman said: "This government has taken swift and bold action to get Britain building again, and the latest figures show progress is already being made, with annual housing stats increasing by 22 per cent compared with the 12 months to March 2010.
"So we will continue to dismantle the failed Regional Strategies and their legacy of animosity between developers and communities, and return powers to the local level so communities can drive economic growth and create new jobs in their area."