Directors appointed for Paralympic opening ceremony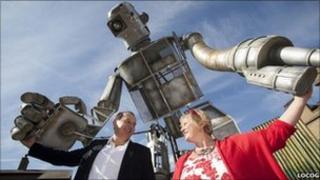 Two Londoners have been named as artistic directors for the London 2012 Paralympic Games Opening ceremony.
Jenny Sealey MBE and Bradley Hemmings were appointed by the London Organising Committee of the Olympic Games and Paralympic Games (LOCOG).
It is a challenge both creatives look forward to tackling.
Sealey and Hemmings join Danny Boyle and Kim Gavin who were appointed last year to direct the Olympic opening and closing ceremonies.
These appointments complete the selection of artistic directors for all four London 2012 ceremonies.
'Transform perceptions'
Sealey is currently the artistic director of the UK's renowned disabled-led theatre company, Graeae, and has worked with disabled artists for the past 20 years.
She said: "It's an extraordinary validation and recognition of Bradley and I as artists."
Hemmings, who is the artistic director and chief executive of the Greenwich and Docklands festivals, said: "I feel both excited and privileged to have the chance to work with artists and Paralympians on a ceremony, which, perhaps uniquely, has the power to transform perceptions."
Speaking ahead of the London premiere of The Iron Man production which she directs, Sealey added: "This is a once in a lifetime opportunity to work collaboratively with leading deaf, disabled and non-disabled artists to create a unique, unforgettable spectacle to be enjoyed by millions across the globe."
Hugh Robertson, Minister for Sport and the Olympics, said: "These appointments contribute further to the amazing calibre of creative talent behind the London 2012 ceremonies."