M1 set to be closed to FA Cup traffic on Saturday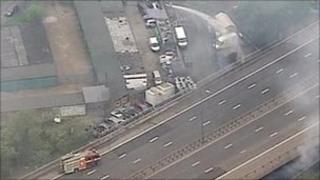 The M1 in north London is likely to remain closed until Saturday lunchtime following a fire at a scrapyard in Mill Hill, the Highways Agency has said.
The M1 has been shut in both directions between junctions 1 and 4, between Brent Cross and Elstree, Hertfordshire.
Checks have to be carried out on the road to ensure it has not been damaged.
Football fans travelling to Wembley for Saturday's FA Cup semi-final between Manchester City and Manchester United were told to seek alternative routes.
This weekend will also see another semi-final, involving Bolton Wanderers and Stoke City, at Wembley on Sunday, plus the London Marathon.
Aston Villa fans are also set to head from Birmingham to London, to watch their team's Premier League match at West Ham United on Saturday.
And Chelsea supporters will make the journey in the other direction, to West Bromwich Albion.
'Significant delays'
The fire broke out at 0410 BST on Friday close to Scratchwood Services and Ellesmere Avenue.
Forty firefighters took about nine hours to bring it under control.
Gas cylinders at the scene had to be made safe so they did not explode after being exposed to heat, London Fire Brigade said.
The Highways Agency said it was assessing the viaduct which carried the M1 to see if there was any severe damage.
"We are working as fast as we can to reopen the road, as soon as it is safe to do so," said a spokeswoman.
Signs were in place to lead drivers through a diversion, but motorists should "consider alternative routes and expect significant delays in this area", she added.