Protesters given a month to save Chase Farm Hospital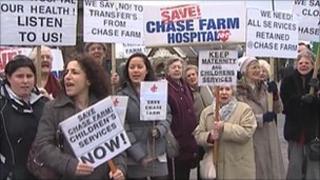 Campaigners trying to save accident and emergency (A&E) and maternity units at a north London hospital have been given a month to come up with a rescue plan.
Protesters met Health Secretary Andrew Lansley to try to stop planned closures at Chase Farm Hospital in Enfield.
Mr Lansley has given Labour-run Enfield Council and local campaigners a month to come up with an alternative plan.
NHS London maintained its proposals for change met the government's criteria and was backed by independent advisors.
A statement from NHS London said: "We will be happy to share all the clinical evidence put forward by doctors with local councillors to inform any proposals."
In September 2008, the then Labour government gave the go-ahead to close accident and emergency services at Chase Farm Hospital.
But the plan led to protests from residents, local MPs, councillors and the Save Chase Farm campaign group.
Now Mr Lansley, the Conservative Health Secretary secretary of the Tory-Lib Dem coalition government, has rejected the plans for closure backed by NHS London.
Tory MP for Enfield North Nick De Bois said Mr Lansley "remains unconvinced that it had the support of a large body of opinion that is required to go ahead".
"He has asked us to take a fresh look at things locally, with the backing of his officials," he said.
Councillor Doug Taylor, Labour leader of Enfield Council, said: "Our aspiration has to be to meet the needs of the local people.
"We'll be back in a month. I hope the secretary of state is receptive and I hope we have a plan that works in Enfield."