Elephant and Castle's 'intimidating' subways closed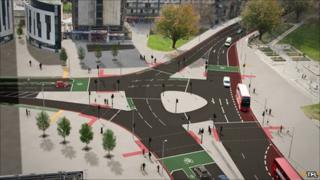 Work to remove a network of "intimidating" pedestrian subways in south London has begun.
The subways, beneath Elephant and Castle's southern roundabout, were branded "unpopular and intimidating" by a Labour Southwark councillor.
Pedestrians can now cross the junction using ground level pedestrian crossings.
Traffic lights have replaced the six-lane roundabout as part of a project to improve the capital's public spaces.
The £2.8m project, funded by Transport for London (TfL) and the London Development Agency, is scheduled for completion in spring 2011.
Cycle lanes will be installed and trees planted around what was the southern roundabout.
But the pedestrian subways at Elephant and Castle's northern roundabout remain open.
Southwark Council's cabinet member for regeneration Fiona Colley said: "I'm delighted to be a step closer to getting rid of the unpopular and intimidating subways."
David Brown, managing director of surface transport at TfL said: "Now the existing subway network is closed off and street-level pedestrian crossings have been installed, we can begin the final phases of work to widen the current pavement space and improve the public spaces around the area."