Fifa World Cup host loss 'blow' to London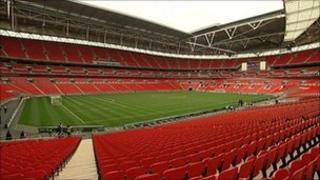 Londoners have been voicing their disappointment after Russia defeated England to host the 2018 World Cup.
Wembley and the Emirates Stadium plus either the Olympic Stadium or a redeveloped White Hart Lane would have hosted games if England had won.
Mayor of London Boris Johnson called it "a blow" and a "tremendously disappointing result".
Economists had calculated London's economy stood to gain £1bn had England won the contest.
Mr Johnson continued: "We put together a cracking bid, our technical specification was top-notch and our stadiums would have been packed to the rafters.
"Londoners love football.
"This is a blow but we have achieved a great deal with this bid and we have much to look ahead to."
The London Chamber of Commerce said it would not comment on the potential economic loss to the city.
But Stephen Ashford, a columnist for Arsenal fanzine The Gooner, said hosting the World Cup would have been a boost for north London.
He said: "It would have been great for the area.
"Most fans I know put club before country so they would not be especially excited at it being held at the Emirates."
He added he believed that England had a "much stronger bid" than Russia.
Ex-West Ham striker Tony Cottee said he was also disappointed with the result.
And a spokesman for Tottenham Hotspur said: "Naturally everyone at the club is disappointed with the news that England has not won the right to host the 2018 World Cup."
The result means Olympic sport will not now be followed by World Cup football at the 2012 Stadium in Stratford, east London.
British Olympic Association chief executive Andy Hunt said: "Like all football fans across England, I am disappointed that England did not prevail in its bid to host the 2018 Fifa World Cup.
"The England 2018 team delivered an outstanding bid that was technically excellent.
"Of equal importance, the team demonstrated the highest standards of professionalism and integrity throughout the process."
'Sporting promise'
James Berresford, chief executive of VisitEngland, said: "We are all obviously disappointed that England has been unsuccessful in its bid to host the 2018 World Cup.
"Despite this setback, the next 10 years is full of sporting promise.
"The London 2012 Olympic Games get the show on the road."
Neale Coleman, a policy adviser, said earlier in the week: "Economists who worked on England's 2018 bid have calculated a total economic benefit to the country of more than £3bn through increased tourism and investment.
"A third of that would directly be felt in London - it would have a positive economic impact."